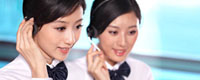 Tel: +86-020-8188333
Mobile: +86-131-68892324
E-mail: info@bsh-wireless.com
E-mail: coobelee@126.com
Add: Tian An Hi-Tech Park,Panyu District,Guangzhou,China
Skype: coobe-lee





No need to pull the network cable solutions


Pull the network cable is not convenient? We have to take advantage of the indoor wire network media access scheme, eliminating the hassle of cable pull,At the same time lift the WIFI does not reach, or wireless WIFI signal is relatively weak local angle.
The product can support up to 10, directly into the socket to use, very convenient. If you need to add wireless capabilities, you can access a wireless router to transmit signals,
You can also use our complete product solutions.


Remarks:
1) Construction is not UPS (uninterruptible power system) for later use, it will affect the network transmission.
2) can not cross meter use, but can be used across the air switch.
The main feature of this product why?
Without wiring - use of the existing power lines as the transmission medium.
Unimpeded - not a wireless network transmission dead hair problems.
Plug and play - no need to set, as long as there are power outlets everywhere can access.
High compatibility - signal transmission stability, high power electrical equipment without interference.
High transfer rate - transfer rate up to 500Mbps, having (Multicast) function enables audio and video more smoothly.
Where the product needs through the network connection to the use of either for use together. Such as HD IPTV, network set-top boxes, the company network, home networking, remote network monitoring, network phones, network printers, digital copiers, digital cameras, wireless AP ... etc.
Total: 6
Page: 1 / 1
First
←Previous
Next→
End