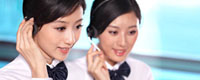 Tel: +86-020-8188333
Mobile: +86-131-68892324
E-mail: info@bsh-wireless.com
E-mail: coobelee@126.com
Add: Tian An Hi-Tech Park,Panyu District,Guangzhou,China
Skype: coobe-lee





Various types of WIFI repeater amplifiers

Router WIFI signal is not strong enough?
No network signal corner position?
WIFI signal distance far enough?
Currently in use WIFI repeaters is not convenient enough?
These problems, trouble does not matter, we have the corresponding product solutions to meet your problem solution.



Total: 1
Page: 1 / 1
First
←Previous
Next→
End