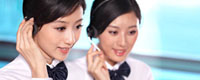 Tel: +86-020-8188333
Mobile: +86-131-68892324
E-mail: info@bsh-wireless.com
E-mail: coobelee@126.com
Add: Tian An Hi-Tech Park,Panyu District,Guangzhou,China
Skype: coobe-lee




Service
>> Small-scale 4G LTE wireless access solutions:
Small-scale 4G LTE wireless access solutions:


Your public place or place of residence, whether the remote pull the network cable connection is not convenient, but not on the Internet and confused, we have corresponding solutions give you referrals. Our product is a high-speed 4G signal into a WiFi signal device, but it needs an external power supply, but can support multiple number of simultaneous mobile Internet terminal. Has been widely used in rural areas, towns, hospitals, institutions, factories, residential, engineering base and other wireless network access, can save the cost of laying cable networks, while convenient office space transfer. Speed faster than the portable WIFI and stability. Very suitable for companies, organizations, using the family of the person.

Our low-cost solution, while supporting 32 WIFI user, set the telephone line output, FAX, print, VOIP, TR069 remote management and other functions, for highways remote farm dining and coffee shop, toll operators, the Internet office use, WIFI POS equipment, network television is very suitable for recreation.


It costs less than two hundred dollars!