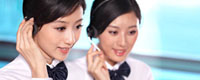 Tel: +86-020-8188333
Mobile: +86-131-68892324
E-mail: info@bsh-wireless.com
E-mail: coobelee@126.com
Add: Tian An Hi-Tech Park,Panyu District,Guangzhou,China
Skype: coobe-lee




Product name : 3G 4G USB Dongle RJ45 150Mbps Repeate

Product No. : 2015101416524
Details:

Hot! 3g wifi router Mini Wireless wifi Router 3G 4G Hotspot RJ45 150Mbps roteador repeater Wifi Hotspot support 3G USB modem
I
ntelligently compatible HSPA + HSPA / EVDO / TD-SCDMA / three kinds 3G 4G all major wireless network card (compatible with over 400 kinds of Internet Kaduo Da above), no manual setup or choose automatic speed dial.

Main features:
ultra-portable, high-speed 3G wireless router compatible with HSUPA / HSDPA / CDMA EVDO USB wireless network card supports IEEE802.11b / g / n, a rate of up to 150Mbps NAT & NAPT automatically assigns IP addresses to support multiple transmission via VPN DHCP server virtual server users of high-speed transmission can be set up security WEP, WPA encryption, and build a firewall simple interface, easy to install, easy to manage
Product Specifications: Basic parameters

Model -A5

Product Type Portable 3G Wireless Router
Wireless standard IEEE 802.11n / IEEE 802.11b / IEEE 802.11g 150Mbps wireless speed

Scope SME hardware parameters other interfaces 1 × Micro USB, 1 × Standard USB2.0,1 × RJ45 other M5 uses patented software technology that can automatically identify ADSL home broadband, DHCP hotel broadband access types. No manual into the management interface to select the access mode, the automatic landing push ADSL interface, easy to use. E1 applicable to all operating systems, cross-system, cross-platform. Original intelligent access mode. There are other performance parameters firewall software with intelligent access 3G wireless router dlna in line with international standards of wireless storage, multimedia sharing device Highlights A5 additional CMCC, CHINANET, UNICOM three carriers WIFI hotspot access and relay functions. Any of the three operators WIFI hotspot coverage area, users can access via E1 to operators WIFI hotspot, and then carried by the A5 WIFI no user restrictions and no flow restrictions of Internet sharing. E1 can also be achieved while three carriers WIFI hotspot signal amplification to improve Internet speed.

Specifications:

Model OEM 3g wifi router
Brand OEM 3g wifi router
Wi-Fi Frequency Band: 2412-2483MHz
Protocol: IEEE802.11b / g / n up to 150Mbps
Encryption: OPEN, SHARED, WEPAUTO, WPA-PSK, WPA2-PSK, WPA, WPA2, WPA-PSK/WPA2-PSK, WPA/WPA2, 802.1x
WPS: Supported
User amount: Max to 20 Wi-Fi users
Gateway TCP / IP / UDP / DHCP Server / NAT / NAPT / UPnP / Static Routing / MAC / URL / IP filter / VPN Passthrough
External Interface 1 × Micro USB for power charge
1 × USB 2.0 for USB dongle
1 × RJ 45 for WAN or LAN
Function Button 1 × Reset
Router Size 6.2 * 2.3 * 1.5cm / 2.44 * 0.9 * 0.59in
Router Weight 16g / 0.55oz