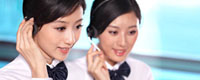 Tel: +86-020-8188333
Mobile: +86-131-68892324
E-mail: info@bsh-wireless.com
E-mail: coobelee@126.com
Add: Tian An Hi-Tech Park,Panyu District,Guangzhou,China
Skype: coobe-lee




Product name : 500mbps Powerline network adapters

Product No. : 20151010172252
Details:

homeplug Powerline network adapters 500mbps plc homeplug power line ethernet adapter
Specifications:
500Mbps PLC Powerline adapter mini homeplug
1.Homeplug ac 85-256v 50/60Hz
2.Power less than 2.5w
3.Plug for EU

HomePlug Powerline:
HomePlug Powerline is an excellent solution that can be used to extend your network. In the home or small office building, use HomePlug Ethernet Bridges to link multiple locations without the need to run long Ethernet cables. Combined with a broadband DSL/Cable connection, every room with electrical outlets will have easy access to high-speed internet connection. With the HomePlug AV speed of up to 200Mbps, this easy-to-setup solution can provide fast streaming HD movies, online multiplayer games, and other data intensive activities for today's HD Entertainment Center demand.

Introduction:
Each HomePlug AV Ethernet Bridge allows you to connect one device that has an Ethernet port to a Powerline network. In operation, the HomePlug AV Ethernet Bridge is completely transparent, and simply passes data between the Ethernet port and the Powerline network. Any Ethernet-enabled device may be connected to the HomePlug AV Ethernet Bridge's Ethernet port.

ackage content:

With retail box
2* powerline adapter
2*Network cable
1*Quick installation guide
1*User manual


P