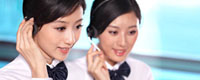 Tel: +86-020-8188333
Mobile: +86-131-68892324
E-mail: info@bsh-wireless.com
E-mail: coobelee@126.com
Add: Tian An Hi-Tech Park,Panyu District,Guangzhou,China
Skype: coobe-lee




Product name : BEINI SELF CRACKING SOFTWARE LONG RANGE 3000Mw DUAL HIGH GAIN ANTENNA USB WIFI

Product No. : 2015102211532
Details:

BEINI SELF CRACKING SOFTWARE LONG RANGE 3000Mw DUAL HIGH GAIN ANTENNA USB WIFI
blueway BT-N9100 high power wireless usb adapter complies with IEEE 802.11n, IEEE 802.11g and IEEE 802.11b standards, 150Mbps transmission rate Wireless Ethernet USB Adapter. The highest power can be 3000mW, can receive wireless signal from more than 1000 meters place.

It is with USB 2.0 interface, simple configuration and monitoring on Win 98SE/Me//2000/XP/Vista/7/8, Linux, MAC OS X; the use of external SMA Connector detachable antenna, users can replace the antenna on demand to obtain a better signal.

Features:
*
Chipset: Ralink 3070 (3000mW)

* Up to 150Mbps high data-rate and 3000mW high output power

* Can be Hot Swap

* Supports 64/128/152-bit WEP, complies with 128 bit WPA standard(TKIP/AES)

* Provides two methods of operation: Infrastructure and AD-Hoc

* Supports Windows 2000/XP/Vista/Win 7/Win 8/Win CE/Linux/MAC OS

Compatible with IEEE 802.11n,802.11b/g/n wireless standards

*2.4GHz frequency band.MIMO (Mutiple input Mutiple Output)

*Complies with Universal Serial Bus Rev.2.0 specifications

*High Speed transfer TX Data rate up to 150Mbps

*Supports WPS by S/W

*Supports wireless data encryption with 64/128-bit WEP ,WPA.WPA2,TKIP.AES

*Wide Range Coverage

*Compliant with FCC Part 15.247 for US,ETS 300 328 for Europe

*Supports driver for Windows 2000.XP 32/64,Vista 32/64,Windows 7/8.Linux (2.4.×/2.6.×).Mac(10.4×/10.5×) Power PC&PC.



Package included:

1* High power USB wireless adapter
1* USB cable
2* antenna
1* CD driver
1*English user manual

CAUTION:

Only use Beini for auditing your own WiFi network!

This product is a wireless router and can be used to carry out your own wireless security audit - i.e. to test the strength of the encryption of a WiFi (WEP or WPA) connection. This product is also a WiFi scanner which measures the intensity of the signal and can discover networks located around you. There are plenty of online tutorials that will tell you how to use Beini, but remember that many uses are illegal - you should only use Beini for assessing the security of the WiFi connections you own directly. We do not endorse or promote the use of this device for the purpose of password theft or illegal use of internet connections.