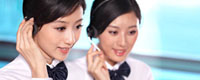 Tel: +86-020-8188333
Mobile: +86-131-68892324
E-mail: info@bsh-wireless.com
E-mail: coobelee@126.com
Add: Tian An Hi-Tech Park,Panyu District,Guangzhou,China
Skype: coobe-lee




Product name : ZTE MF283 LTE FDD TDD 4G Wi-Fi Router + telephony gateway

Product No. : 2015102114513
Details:
ZTE-MF283-LTE-FDD-TDD-4G-Wi-Fi-Router-telephony-gateway
FDD 800/900/1800/2100//2600 MHz + TDD2300mhz cpe router
Product Overview:


The ZTE MF283 supports LTE FDD 800/900/1800/2100/2600MHz AND LTE TDD 2300Mhz AND WCDMA 850/900/1900/2100Mhz which means it works on most 4G and 3G networks including the new Optus 4G+ with download speeds of up to 100Mbps and access for up to 32 WIFI devices, making it an ideal home entertainment and information exchange hub.

It takes a single normal size SIM card in its slot.

And it has 2 telephone ports for making and receiving calls from a standard handset over a mobile network. It supports CSFB (Circuit-switched Fallback) so that when calls are made in LTE mode, the device will fall back to 3G mode to allow the call to be handled circuit-switched. (Network mode cannot be set to 4G only for CSFB to work).

* 2G: EDGE/GPRS/GSM 850/900/1800/1900 MHz

* 3G HSUPA / HSDPA / UMTS / DC-HSPA+ 850/900/1900/2100 MHz (up to 42.2Mbps DL, 5.76Mbps UL)

* 4G LTE FDD 800/900/1800/2100/2600 MHz, LTE TDD 2300 MHz (up to 100Mbps DL, 50Mbps UL)

It also has a WAN port for connecting to the internet over fixed broadband (cable, ADSL or NBN) and can thus function as a normal Wi-Fi router if a mobile connection is not needed or available.

Features:

PORTS:

3 x LAN (RJ45) for connecting to LAN terminals
1 x WAN/LAN for connecting to fixed broadband or a LAN terminals
2 x RJ11 for attaching PSTN phones

WI-FI: 802.11b/g/n (300Mbps)

SMS Send and Receive with Phonebook

SIZE: 195 mm x 55 mm x 150 mm

Compatible Operating Systems:

Windows 2000/XP/Vista/7/8
Mac OS
Linux

Sales Package:

* Unlocked Wireless Router
* Charger and lead
* Plug adapter
* User guide and manual
* Ethernet cable

Any questions?

You can chat with us on Skype to get answers instantly. Just add ben.olam to your Skype contacts and enter your question.