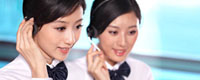 Tel: +86-020-8188333
Mobile: +86-131-68892324
E-mail: info@bsh-wireless.com
E-mail: coobelee@126.com
Add: Tian An Hi-Tech Park,Panyu District,Guangzhou,China
Skype: coobe-lee




Product name : AirCard 762S/763S 4G LTE 8001800/2100/2600Mhz/ Wireless WIFI Mobile Router

Product No. : 201593021828
Details:

Unlocked Sierra Wireless AirCard 762S/763S 4G LTE 8001800/2100/2600Mhz Wireless WIFI Mobile Hotpots Router SIM Card PK 763S 760S 754S

The AirCard 762S mobile hotspot supports up to 10 simultaneous Wi-Fi connections, providing ample support for a work team or family carrying multiple connected devices on a road trip. On a 4G LTE network it provides sufficient bandwidth to handle demanding applications like online gaming and streaming media.

Can I use my own SIM card in the unit?
The unit is unlocked (also known as "sim free") which means that it will accept any mobile network SIM in it. It takes a normal standard size SIM. You will of course need a data (mobile broadband) subscription (or a prepaid data package) that is valid. In the process of testing, I have tested the unit with all UK and Irish networks and sold this device to customers all over the world. If you are unsure if it will work with your SIM, please contact me and I will check for you. Please note that if your data package / SIM card is meant for use in a mobile phone only (ie not for tethering), your network provider may block access when it is used in any mobile broadband device.
Netgear info and support site: http://www.netgear.co.uk/service-providers/products/mobile/mobile-hotspots/762s.aspx

What are the technical specifications of the unit?

Not compatible with CDMA/EVDO networks (eg. Verizon/Sprint)
4G (LTE): 800/1800/2100/2600 MHz (bands : 1, 3, 7, 20)
3G/3G+ (HSPA/HSPA+/DC-HSPA+): 900/2100 MHz (bands: 1, 8)
2G (GPRS/EDGE): 900/1800 MHz
Offers enormous potential for mobile workers, travellers, and families
Share a high-performance Internet connection with up to 10 WiFi-enabled devices
4G LTE Fast -- Connect to the fastest network available to download and stream without delay
Wi-Fi on the Go -- Connect up to 10 Wi-Fi-enabled devices simultaneously
Easy Set-up and Use -- No software to install. The convenient LCD screen helps monitor your connection and device information
Robust -- Designed with security technology, web-based device management and microSD sharing capabilities
Stay Connected -- Always access the fastest speeds (4G LTE) available, or connect to 3G+/3G/2G where 4G is not available
High Performance -- Up to 100Mbps download, up to 50Mbps upload (maximum speed varies by operating environment and your operator's network capacity
Unlocked -- Use the operator network of your choice; acquire a SIM card from your operator, insert and power on
Convenient Management -- Manage settings through a web browser or mobile app
Secure -- View and block Wi-Fi devices, password protected device administration and VPN support for business applications
Shared microSD Storage Slot -- Share files, photos, music and videos wirelessly across all connected devices from a microSD card inserted. (microSD card not included)
Removable and Rechargeable Li-Ion Battery
Free AirCard App Manage your mobile hotspot and connection with a smartphone or tablet; view data usage, battery life and power-off your mobile hotspot

Can you help me configure the unit?
Yes. After testing, I configure the item for the free SIM. This means that it is basically plug and play. Here are the basic instructions:

Register and activate the free SIM card and purchase a data package.
Insert the SIM card in the unit
Turn the unit on
On your wireless device - preferably a laptop, look for a wifi network called "Wireless".
Connect to the "Wireless" network. No security key is required.
On your laptop, open your web browser and go to the following URL: http://192.168.1.1
Login with the password webadmin
You will see you are connected and you should then setup security on your wireless network (details on how to do this are included).




Unlocked Sierra Aircard 763S GPS 100Mbps 4G LTE AWS(1700/2100)/2600MHz Wireless Router 3G UMTS Wifi Mobile Hotspot Broadband


Siera 763S is one member of the Sierra 4G Mobile Hotspot family. The other two similar member are Sierra 760s and Sierra 762s.
Even Sierra 762s seems more well know than 763s, 763s is still very popular in Canada. This second generation LTE mobile hotspot from Sierra Wireless is easy to setup in under a minute and can connect up to 10 Wi-Fi devices. The AirCard 763S is suited for network operators in the North American region.


Features:

• Supports up to 100 Mbps download, up to 50 Mbps upload (LTE Category 3)

• LTE 1700 Mhz (AWS Band IV) / AWS/2600 MHz (Band VII)

• HSPA+/HSPA 850/1900/2100 MHz

• Quad band 2G

• Standalone and assisted GPS

• Wi-Fi 802.11 b/g/n

• WPS Button (Wi-Fi Protected Setup)

• Shared microSD Slot (up to 32 GB)

• External Antenna Connectors

• Removable 2000 mAh Battery

• 1.7" LCD Display

Item included:

Netgear AirCard 763S(Unlocked)
Power Adapter
USB cable
Battery