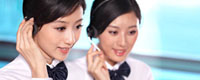 Tel: +86-020-8188333
Mobile: +86-131-68892324
E-mail: info@bsh-wireless.com
E-mail: coobelee@126.com
Add: Tian An Hi-Tech Park,Panyu District,Guangzhou,China
Skype: coobe-lee




Product name : GSM 900MHZ 20dbm power LCD display phone booster repeater

Product No. : 201591316235
Details:

NEW OFFER
yellow color GSM 900MHZ 20dbm power LCD display phone booster repeater GSM repeater booster
Selling point of product :
1. Max. 500 square meters suitable .
2. GSM booster;
3. 900mhz booster;
4. LCD display function to display signal receives.

Detaileds:

Voltage : 110-220V AC or DC5V 1A
Frequency range :
890MHz--915MHz(Up link)
935MHz--960MHz(Down link)
Gain :
Uplink ≥58dBi Donwlink ≥60db
Output power :
Uplink: 20dbm
Donwlink :20dbm
Impedance : 50Ω ;
Seclusion : >70db
Ambient temperature:-10oC--50oC
Configuration: 5V/ 1A prower

Size :
Net weight : 0.26kgs .
Gross Weight :0.36Kg

Signal coverage area :Max. support 500 sq meters. it will be different according to your using condition and the indoor antennas which you are using .

Note :
1. The product include accessories of cable , Heads and antennas , power Adaptor included.