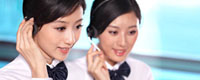 Tel: +86-020-8188333
Mobile: +86-131-68892324
E-mail: info@bsh-wireless.com
E-mail: coobelee@126.com
Add: Tian An Hi-Tech Park,Panyu District,Guangzhou,China
Skype: coobe-lee




Product name : CD002

Product No. : 201582710448
Details:

MINI CDMA 850

This is a brand new 850MHz (uplink: 824-849MHz; downlink: 869-894MHz) cell phone signal repeater kit, which can work in all 850MHz networks in the world, including WCDMA 850MHz networks, CDMA850MHz networks, and GSM850MHz networks. The maximum coverage of this repeater is 500 square meters which can be achieved by installing several indoor antennas, its maximum gain reaches 80dB, and it is very powerful and can work for several indoor ceiling antennas, if your outdoor signal strength is not very good, powerful repeater with high gain can effectively help you to get better indoor signals. The repeater can greatly reduce disconnection and drop-outs of your phone calls and can be used with multiple cell phones and data cards simultaneously.
Frequency: 824~849MHz (Up Link); 869~894MHz (Down Link)
Outdoor Yagi Antenna Gain: Max. 11 dB
Indoor Wall Antenna Gain: Max. 8 dB
Repeater Coverage: Up to 200
SQM
Input Power: AC 110V - 220V, 50Hz - 60Hz
Working Temperature: -15
~ 55
Dimension: Appr. 245*210*52 (mm)
1x Outdoor 5-Element Yagi Antenna w/ 10m Cable
1x Indoor Wall Antenna (coverage: 200 SQM)
1x 3 meters of Low-Loss 75 ohms Copper-cored Cable (for indoor antenna)
complete set of mounting hardware
· Steps that describe the work of gsm booster.
Step 1. The outside antenna receives the signal from the nearest mobile base station.
Step 2. The outside antenna sends the received signal through the coax cable to the installed gsm booster.
Step3. The gsm booster accepts the low signal and improves it.
Step 4. The improved signal goes to the inside antenna through the connection coax cable.
Step 5. The inside antenna send the improved good signal to your mobile phone.
Gsm booster works at full duplex. It means that they not only receive the weak signal from the mobile base station and then divert to mobile phone after amplifier. They also receive the signal from your mobile phone and then send it to the mobile base station.
Packaging Details
1.700kg (3.75lb.)
30cm x 25cm x 25cm (11.81in x 9.84in x 9.84in)